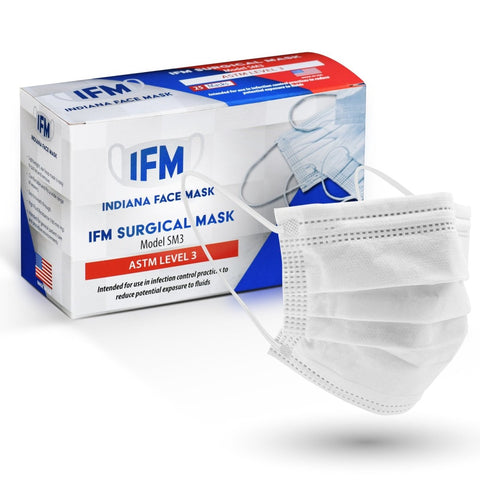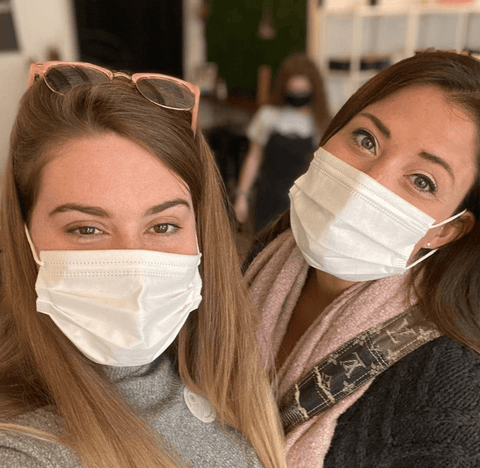 Indiana Face Mask
ASTM Level 3 Surgical Face Mask [25ct]
$8.99
$9.99
you save $1.00
Indiana Face Mask ASTM Level 3 Surgical Masks are designed with all day comfort in mind!  We manufacture all of our products in-house in Rensselaer, Indiana with the highest possible sanitation standards.
The IFM Surgical Mask Model SM3 is intended to be worn to protect both the patient and healthcare personnel from transfer of microorganisms, body fluids, and particulate material. These face masks are intended for use in infection control practices to reduce potential exposure to blood and body fluids. The face mask is single use, disposable device, provided non-sterile.
For the US market, Indiana Face Mask is now providing FDA cleared surgical masks meeting the Level 3 standard of the American Society of Testing and Materials (ASTM). The ASTM Level 3 surgical mask is for use in conditions where there is a high risk of fluid and spray of aerosol transmission, such as operating procedures.
Surgical masks by Indiana Face Mask were tested for performance in five areas: fluid resistance, differential pressure, particulate efficiency, bacterial filtration efficiency and flammability. Upon completion of testing, the surgical masks consistently met ASTM Level 3 criteria in all five performance test areas. Bacterial and particle filtration efficiency test results were greater than 98 percent.
Each box contains 25 IFM Surgical Mask Model SM3.  A case contains 250 IFM Surgical Mask Model SM3 (10 box/case).
What does ASTM Level 3 mean?

It is the standard that covers the performance requirements and test methods for materials used to construct medical face masks used in providing healthcare such as surgical services and patient care. It is set by ASTM International.
ASTM Level 3 Surgical Mask Specifications
Filtration Efficiency: BFE>99%, PFE>99% @ 0.1 micron

Breathability - Delta P: < 5.0 mm H2O/cm2

High Fluid Resistance: 160 mmHg
Flame Spread: Class 1
In-house meltblown technology used
Not made with natural rubber latex
Fully-integrated manufacturing
25 SM3 Surgical Masks per Box
250 SM3 Surgical Masks per Case (10 Box/Case)
Material Composition
Outer Layer: Polypropylene spunbond
Filter: Melt-blown non-woven electrostatically charged
Inner Layer: Polypropylene spunbond
Nose Clip: Polyethylene coated single wire
Ear Loop: Elastic spandex