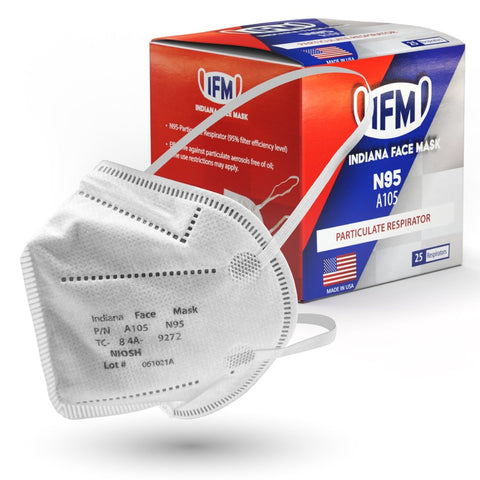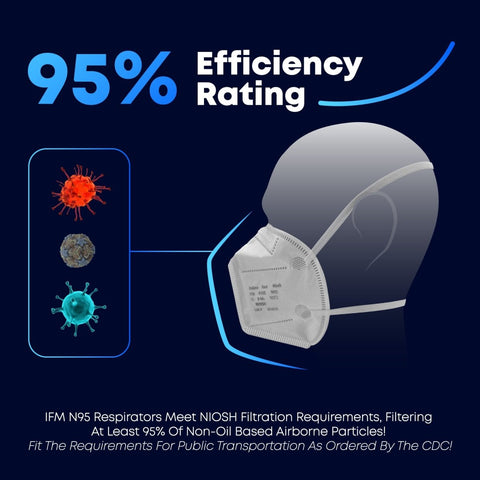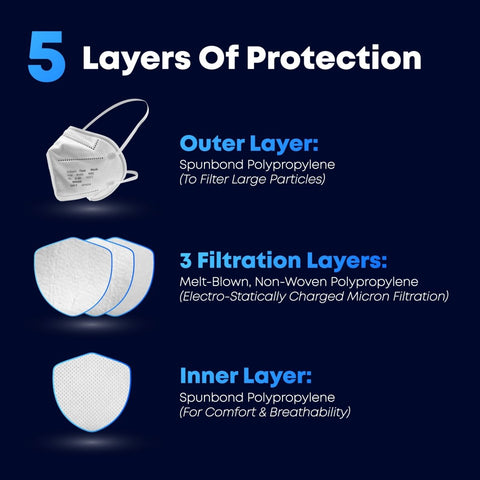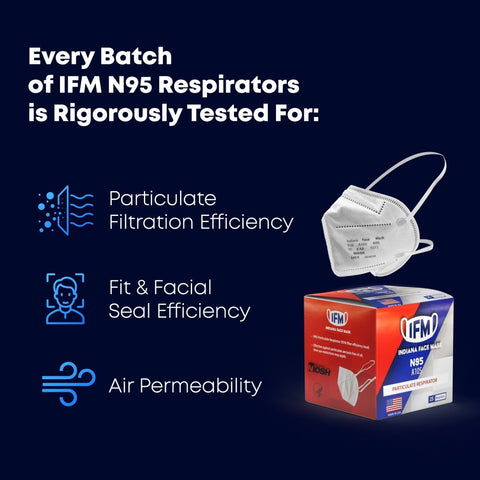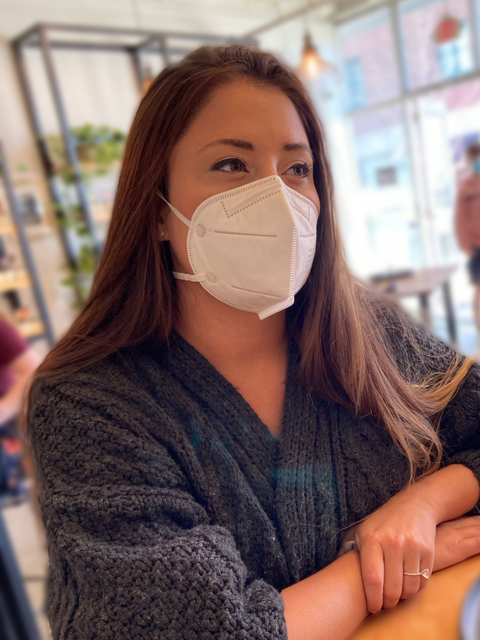 Indiana Face Mask
N95 Particulate Respirator [25ct] - Individually Wrapped
$17.50
$19.95
you save $2.45
Indiana Face Mask N95 Respirator - Individually Wrapped N95
---
IFM respirators are made with the consumer's safety and comfort as our top priority.  We make every part of our masks and respirators in our top-of-the-line facility, in Rensselaer, Indiana USA! 
IFM N95 respirators are great to buy for daily use due to their disposable nature while being very lightweight, allowing for longer wear time.  They are also individually wrapped for best workplace practices!  
IFM N95 respirators meet NIOSH filtration requirements, filtering at least 95% of non-oil based airborne particles.
---
N95 Particulate Respirator Specifications 
Made in the USA

NIOSH Certified N95 Respirator

Title 42, Code of Federal Regulations, Part 84 (42 CFR 84).

MANUFACTURER ♦ 100% Made in Indiana by FSSC LLC - dba Indiana Face Mask

ONE SIZE FITS ALL ♦

HEAD STRAPS & DIMENSIONS ♦ Features Elastic Head & Neck Straps To Help Maintain Maximum Facial Fit & Seal. Size of Facial Cup: 5.75" Side-to-Side, 6.125" Top-to-Bottom, 4.25" Front Edge to Side

HIGH BREATHABILITY ♦ Users Report Having Ample Room in Front of Their Mouth & Nose to Breath While Wearing Our N95

EFFICIENCY RATING ♦ >95% Efficiency, our N95 Respirators Meet NIOSH Filtration Requirements, Filtering at Least 95% of Non-Oil Based Airborne Particles. (42 CFR 84), [Approval Number: 84A-9272])

ADJUSTABLE NOSE CLIP ♦ For Use With & Without Glasses Due to the Adjustable Metal Nose Clip

IN-HOUSE MANUFACTURING ♦
Material Composition 
Outer Layer: Polypropylene spunbond
Filter: Melt-blown non-woven electro-statically charged 3 layers
Inner Layer: Polypropylene spunbond
Nose Clip: Polyethylene coated double wire
Head Strap: Elastic spandex
Specifications
Description: N95 Particulate Respirator 
TC Number: TC-84A-9272
Part Number: A105